Week to week St Barnabas is bringing you the stories of Godly Play- on Zoom! Email Rev Karen to connect with other families in the parish on Sunday mornings.
Learn more below about the story this week!
This week – The Parable of the Mustard Seed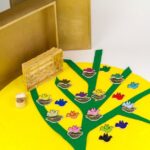 Join Rev. Karen and the children of St Barnabas for Zoom Godly Play on Sunday morning at 9AM. If you didn't receive an invitation last week and would like to join in, email 
revkaren@stbbi.org
. This week we'll hear the 
Parable of the Mustard Seed
… I wonder how something so little can be so big? There are many Godly Play videos available on YouTube! This is a wonderful resource any time, but especially now that children aren't able to be together for Godly Play. Look for more videos by searching YouTube for Godly Play… you might just enjoy the stories yourselves!